---
FAQ
FAQ
Here are some of the questions that our customers most frequently have for us. 
What is Paint by Numbers?
Painting by Numbers is a system where a picture is divided into shapes, each marked with a number that corresponds to a particular color. You paint in each shape and ultimately the picture emerges as a finished painting.
What is included in a Paint by Numbers kit?
Each Paint by Numbers kit from our website is all inclusive! Included in each kit you will find a printed, pre-numbered canvas, all the paint necessary to complete the design (no mixing required) and paint brushes. All you need is warm water to wash the brushes when you change colors. 
What size are the paintings? 
Most of our paintings are 16"x20" (40x50cm) and do not include a frame. A few of our paintings are different sizes, but it will show the size when you add the product to your cart. 
About size error

Due to equipment and process problems, errors may occur when the canvas is printed and replaced. Manual measurement will have an error of 1-3cm.
How many paint colors are included in each kit?
Our Paint by Numbers kits include between 20-32 paint pots depending on the picture. We always provide enough paints to achieve the authenticity and details of the painting. 
I am not an artist, do I need to know how to blend colors or mix colors to complete a Paint by Numbers?
Absolutely not! Personalised paint by Numbers kit is designed so that every color or every value of color is provided for you. No blending or mixing of colors is required. As an example when painting a sky, light to dark values of blue will be provided based on the artwork. 
How long does it take to complete a Paint by Numbers?
The length of time it takes to complete a Paint by Numbers will vary depending on the size of the artwork, and the hours or time applied to working on it. Paint by Numbers is a relaxing art form which can be completed quickly over a couple days or enjoyed a little at a time over a series of weeks/months. It is totally up to each individual. 
How long does it take for a Paint by Numbers to dry?
Because the paint is water-base acrylic paint, it will dry to the touch within 10-15 minutes depending on the thickness of paint application. 
How shall I clean my paintbrushes?
Rinse the paint filled brush well in a brush basin or container of water. If needed, you can add a touch of mild soap to thoroughly clean paint from the bristles. Reshape the brush and allow to dry between uses. NEVER let a brush sit in a container of water or rest on its bristles. 
What should I do with my completed Paint by Numbers artwork?
A completed Paint by Numbers project is a work of art and will be enjoyed for years to come. Remembering the hours of relaxing pleasure is only one way to enjoy your artwork.
Placing it in a frame for display is another! When framing, it is not necessary to frame with glass, however, when framing with glass be sure to use a matte so that the artwork is not directly touching the glass.
Ordering
What kinds of payment methods do you accept?
We accept a variety of payment methods including credit/debit cards and Paypal.See more information about payment on Payment page.
Can I modify or cancel my order?
Yes, we accept any changes to an order. Please note that if you need to make any changes to your orders, please contact our Customer Service within 24 hours of placing the order. 
Do I need to add water when using pigments?
No need to add water.
What products participate in buy 2 get 1 free?
All kits participate in buy 2 get 1 free, tools do not participate.
Shipping
How long can I receive the package after placing the order?
It usually takes about 12-16 days for delivery,we will send your order within 48 hours and shipping time about 10-14 days. 
Can I know where my package is and when it will be delivered?
Yes,of course you can.Tracking information including tracking number and tracking link is emailed to you after shipment.Please noted that though we send the tracking information the moment we ship the package,it does not mean you can find the tracking information online right away.The tracking information become available online in 1-3 days. 
From where are your products shipped?
Orders are shipped from either our UK, US, Australian or Asia warehouses. The country of shipment will depend on your address and the items you have ordered.
My order hasn't arrived on time, what should I do? 
If your order has not arrived in the specified delivery time, you can track your order to see where it is located. Sometimes orders are delayed due to customs hold ups. Please reach out to our customer service team at service@hedyart.co.uk and we will provide you with the latest update.
When I sign for the package,I find the package is damaged.
Before you sign for the package,please check the package carefully if it's completed without any damage.If it's damaged,you can refuse to sign for it.Please take a picture to show the problem and contact us soon.We will help you solve the problem. 
Return and Refund
What if my order arrived incomplete, incorrect, damaged or defective?
Your satisfaction is our priority.Please contact us within 24 hours from receiving your order if you received merchandise that is incorrect, missing, and/or defective. Please include your order number, photographs of the item(s) and all related references upon receiving your package. We will do our very best to resolve your case as soon as possible.
I do not like the received items,can I return for exchange?
Yes,of course you can.Please return to exchange the items with same price.If the received items do not have any quality issues,you are responsible for the return shipping cost.If the received items have quality issues,just contact us when you receive it.We will help you solve the problem.
What is Return Policy?
If the Products you receive are damaged or defective during transit,missing,or incorrect Products in the package,please notify us within 24 hours since the receipt day.See more under the catalog "Return Policy".
When will I receive my refund?
All refunds will be credited to your original form of payment. If you paid by credit or debit card, refunds will be sent to the card-issuing bank within 7-10 business days of receipt of the returned item or cancellation request. Please contact the card-issuing bank with questions about when the credit will be posted to your account.
If you haven't received a credit for your return yet, here's what to do: Contact the bank/credit card company. It may take some time before the refund is posted to your account.
About product creases
 In order to protect the goods from being damaged during transportation, we will fold the canvas and wrap it up. The canvas is made of cotton and linen, so creases are normal. But don't worry, the slight creases will not be seen after the painting is done.

 Here are some ways to reduce creases: You can spread the canvas and place a heavy object on it to reduce creases. If it cannot be flattened, you can try ironing or steaming the canvas. 
If the crease you received is serious and cannot be used, please contact us, we will reissue a new package for you
 About the size of the product frame

 The frame is wrapped by the canvas, so the size of the canvas refers to the size of the outside of the frame. Therefore, you need to measure it from the outermost sides of the four sides of the frame when you want to get the size of the frame.

 The measurement of the size of our products is based on the outside of the frame. as the picture shows: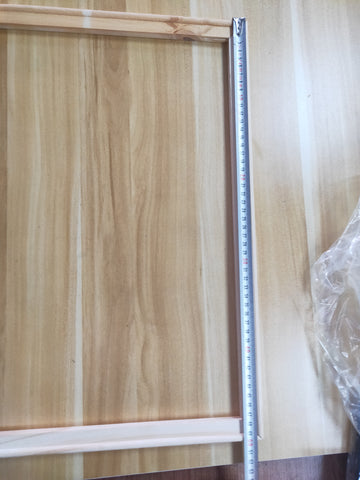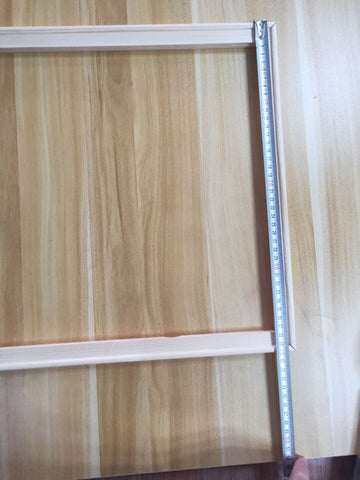 If you cannot find the answer to your question in our FAQ, please contact us at service@proarts.co.uk. and we will give you response as soon as possible